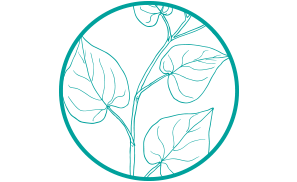 WHAT IS JAPANESE KNOTWEED?
Japanese knotweed (Fallopia Japonica) is an herbaceous perennial, native to Japan, where it is thought to have evolved as a first- coloniser of post-volcanic soils. In its native environment it is heavily eaten by insects, losing approximately 40% of it leaf cover each year.
To combat this predation, it has exceptionally fast vertical growth, capable of growing up to 10cm each day. It is also excellent at fixing nitrogen in the soil (better than any other plant in the UK). In Japan, this accumulation of nitrogen allows other species to establish and out-compete the plant, causing it to go dormant after about 50 years. In the UK it is a different story altogether. Introduced in 1850 and valued as an ornamental plant in large gardens, its highly vigorous nature soon became apparent. With no predators to eat its leaves, by 1886 it became established on brownfield sites in Wales. By 1905 it was advised against keeping the plant in the garden unless kept in check. A hundred years later and it has become established throughout the UK, colonising river banks, railway lines, motorway verges and vacant plots. Every plant in the UK is female, each one a descendant from that first female plant introduced over 150 years ago. As such, it does not produce viable seeds, but instead spreads by an extending network of underground rhizomes. These can extend 7m from the parent plant before sending up new shoots and stems that create new stands. If the rhizome material is disturbed or dug-up, it only takes a gram of material for it regenerate into a new plant. Wherever the plant becomes established it will impact upon the local environment. Its thickly matted stems, reaching 2-3m, reducing biodiversity by outcompeting all native plants, its extending rhizomes exploiting weaknesses in built structures, causing lenders to withhold mortgages from properties infested by the plant, and its presence on development land causing costly delays to homebuilders. It is not all bad news. In the Far East it is used in medicine and eaten, apparently tasting similar to rhubarb. Its stems can be used as a vegetable dye, its extensive roots to stabilise embankments and its flowers a valuable late-season source of nectar to pollinators. However, when all is said and done, those Victorians have much to answer for!